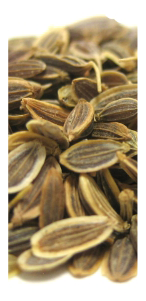 Dill Seeds
Description:Dill seed is a distinctive, perennial herb plant. It belongs to the Umbelliferae family and both its seeds and leaves are utilized as a seasoning. Being native to the East European and Mediterranean regions, dill seeds are light brown in colour, are oval in shape with a vertical ridge and flavor which is sweet, citrus, aromatic and slightly bitter. Just as the cilantro plant, this too needs well-drained fertile soils and warm summer climates to flourish. This herb is valued for both its flavoured foliage and pungent seeds. This should not be grown next to fennel as both are likely to hybridize.Uses:Enriched with mineral salts, these seeds are used in a salt-free diet. Dill weed is used in preparing dill tea or water that can treat hiccups, flatulence, menstrual cramps, stomach ache, colds, flu and insomnia. Apart from this it is also used for other purposes such as;

• Acts as a relaxant
• Increases urination and helps remove toxins, water and excess salts from the body
• Acts as a carminative, antispasmodic as well as an anti-flatulent substance
• Ensures good dental and bone health
• For flavouring pickles

Dill seed is classified into 5 different types and each is used for different purposes.

• Dukat-used for seasoning various condiments . It is apt for salads.
• Fernleaf- it looks great in flower arrangements
• Long island- its leaves and seeds are used in sauces, stews, breads , vinegars, pickles and salads. It can be used both fresh or dried.
• Bouquet-it is sprinkled on various foods for aroma
• Superdukat- it contains more essential oil compared to ducat Packing:We carefully pack these seeds in Jute, HDPE and Paper Bag packaging with tamper proof seal. We ensure that the properties and aroma are kept intact during the process of packaging and these are free from impurities. These are also offered in bulk packaging of both 25 and 50kgs.