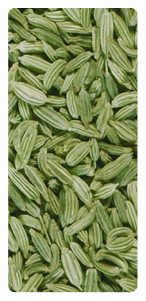 Bulk, Raw Sweet Fennel Seeds – Suppliers Exporters and Processors India
Description:Fennel is a pleasant-smelling, perennial herb having yellow flowers. These seeds are pale green in colour and possess a faintly sweet, refreshing flavour. It is both a spice and an herb and every part of it is edible. It is native to Mediterranean regions and Southern Europe but presently is extensively grown all across Turkey, India, China, Middle-East and Europe. These are mistaken often for aniseed, but however the former is less pungent and slightly bigger in size. Puritans called it a "meeting seed" and chewed it at the time of their extensive church meetings.Uses:Having similar properties like that of dill and anise water; fennel water when mixed together with sodium bicarbonate as well as syrup is used as Gripe Water for easing flatulence in infants. Fennel seeds can also be used as syrup for treating babies suffering from colic/painful teething. Apart from these, it has a wide range of other uses. Some of these include;

• To treat various digestive problems
• Treat backache and visual problems
• Prevent bedwetting
• As an ingredient in natural toothpastes
• Natural mouth freshener
• Used as a bandage for snake bites
• As a flavouring in beverages and foods
• As a compress for treating blepharitis and conjunctivitis
• Fennel oil when applied externally relieves rheumatic and muscular pains
Packing:We ensure proper packaging of our fennel seeds to guard them against every kind of adverse weather conditions and tampering. Herein, we also shield these seeds from too much moisture. Our team of experts packs the fennel seeds in clean and hygienic packing particularly in Paper, HDPE and Jute bags. Prior to storing these are carefully cleaned and sorted. Clients can also avail from us Fennel seeds in bulk quantities of 25 and 50kgs at truly competitive prices.
Let's Contact Organic Fennel Seeds Supplier India
Email:
info@mmagro.com